Home
Mission and Vision
Neuropsychiatric and neurodegenerative diseases of adulthood such as depression, schizophrenia, Parkinson's disease and motor neuron disease are highly disabling diseases that place an immense burden on individuals, their families and society.
The mission of the research training group (RTG) is to further the development of prevention and treatment strategies for these diseases through a deeper understanding of the underlying pathophysiological mechanisms. To fulfill this mission, basic and clinical neuroscientists will combine forces to research the novel key concept that neurodevelopment constitutes a major determinant for the individual's vulnerability to neuropsychiatric and -degenerative disease in later life. Equally important, the RTG addresses the need to train the next generation of neuroscientists in this important emerging pathophysiological concept.
The members of the RTG envision that the intensive training and research activities will significantly impact on the development of new perspectives for disease prevention and treatment.
2nd International Symposium 4th – 6th of October 2022
We are delighted to announce our Second International Symposium "Developmental Processes in CNS Plasticity and Pathogenesis" from 4th – 6th of October 2022 at the Max-Planck-Institute for the Science of Light. Here you can find our final program, the abstract booklet and the poster.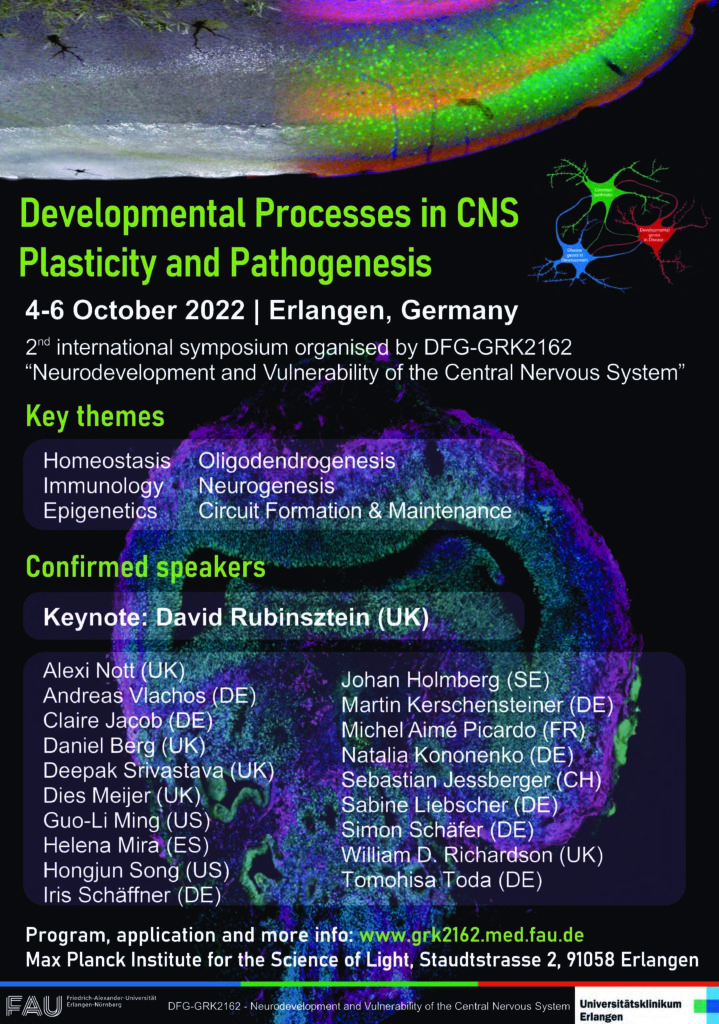 Latest News
We are very pleased to announce Prof. Friederike Zunke and Prof. Veit Rothhammer as new PIs of our GRK2162, starting from July 2022.
Good News
We are very happy that the GRK2162 will receive funding for another 4.5 years. Welcome to the new PIs: Prof. Marisa Karow, Prof. Kristian Franze, PD Dr. Christiane Mühle, Dr. Ruth Beckervordersandforth and Dr. Melanie Küspert!
Open PhD positions – apply now!
We regularly offer PhD student positions for highly motivated, talented students . If you want to know more about the PIs and their research foci, please refer to their profile in the section "faculty".
Participants will be intensively guided by an interdisciplinary team of experts in basic, clinical and translational neuroscience. Our curriculum is tailored to train young researchers in innovative concepts and key scientific skills to prepare them for their career.
More Information about the application process under "application and selection".
Congratulations!
To our latest graduates L. Hassel, L. Mészáros,  and A. Brendler, who successfully defended their thesis and completed the programme. Find all graduates here.
MD thesis stipends – apply now!
Are you a highly motivated medical student interested in performing your thesis in one of the GRK2162 laboratories?
Then find your favorite working group ("Faculty"), ask for an open position and apply with your future supervisor for a 8-months stipend.
Please find more Information about the application process under "application and selection".