Home
Mission and Vision
Neuropsychiatric and neurodegenerative diseases of adulthood such as depression, schizophrenia, Parkinson's disease and motor neuron disease are highly disabling diseases that place an immense burden on individuals, their families and society.
The mission of the research training group (RTG) is to further the development of prevention and treatment strategies for these diseases through a deeper understanding of the underlying pathophysiological mechanisms. To fulfill this mission, basic and clinical neuroscientists will combine forces to research the novel key concept that neurodevelopment constitutes a major determinant for the individual's vulnerability to neuropsychiatric and -degenerative disease in later life. Equally important, the RTG addresses the need to train the next generation of neuroscientists in this important emerging pathophysiological concept.
The members of the RTG envision that the intensive training and research activities will significantly impact on the development of new perspectives for disease prevention and treatment.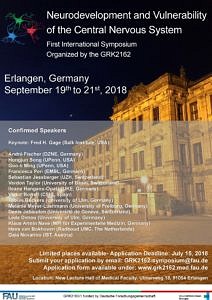 First International Symposium
"Neurodeveloment and Vulnerability of the Central Nervous System"
September 19th – 21st, 2018 (Erlangen, Germany)
Contact: GRK2162-symposium@fau.de
Abstract Booklet Symposium 2018
Confirmed Speakers:
Keynote: Fred H. Gage (Salk Institute, USA)
André Fischer (DZNE, Germany)
Hongjun Song (UPenn, USA)
Guo-Li Ming (UPenn, USA)
Francesca Peri (UZH, Switzerland)
Sebastian Jessberger (UZH, Switzerland)
Verdon Taylor (University of Basel, Switzerland)
Illeana Hanganu-Opatz (UKE, Germany)
Victor Borrell (CSIC, Spain)
Tobias Böckers (University of Ulm, Germany)
Melanie Meyer-Lühmann (University of Freiburg, Germany)
Denis Jabaudon (Université de Genève, Switzerland)
Leda Dimou (University of Ulm, Germany)
Klaus Armin Nave (MPI für Experimentelle Medizin, Germany)
Hans van Bokhoven (Radboud UMC, The Netherlands)
Gaia Novarino (IST, Austria)
Currently no open positions.
---